News
welcome to our new homepage for rare vinyl!

the site is run in cooperation of the viennese recordshop SUBSTANCE and fanatic collector and freejazz musician extraordinaire MATS GUSTAFSSON

there will be updates every month, on every first friday.

there will be further adjustments / improvements in the next weeks - meanwhile please just dive into the beautiful vinyls...

Newsletter
sign up for news, infos, updates!


Collections
we buy collections
please get in touch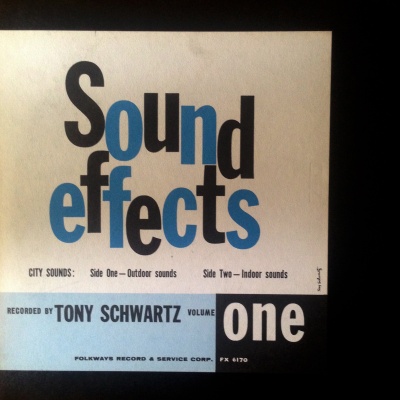 No Artist – Sound Effects, Volume One, City Sounds (Recorded by Tony Schwartz)
LP, 1958, USA, Folkways Records, FX 6170
Library sticker on label and on backcover.

This compilation of sounds from the city is divided into two categories: outdoor and indoor sound. Recorded in 1958 by Tony Schwartz for the purpose of using the noises for radio, TV, theatre and film, the sounds include such things as traffic noise (honking taxis, bus's squeaking breaks etc.) and chattering in a busy restaurant. Schwartz says: "All the sounds on this record are well used as background sounds." No liner notes.




EUR 60,–
(condition: NM / EX)
add to shopping cart
< go back